Feature

Custom portal search filters
Coming soon
Search tools designed for your data
Make finding the right data easy for your community of researchers with search fields focused on your science topics.
🔑 Build your own custom portal for free during the preview period! No credit card required.
Search filters
How to create a filter
Creating a search filter for your portal is easy. Choose a metadata field and a filter type, then select a matching icon and text. Mix and match as many filters as you need, and arrange them into groups.
🔧 The interface for creating and editing search filters is currently in the development stage 🔧
Below is a representation of how it will work, the final interface might look a little different. Until this portal feature is ready, our team can configure these portal features behind-the-scenes.
Step 1

Choose a metadata field

Allow visitors to filter your collection of data by any metadata field of your choice.

abstract
archived
attribute
attributeDescription
attributeLabel
attributeName
attributeUnit
author
authorGivenName
authorGivenNameSort
authoritativeMN
authorLastName
authorSurName
authorSurNameSort
awardNumber
awardTitle
beginDate
blockedReplicationMN
changePermission
checksum
checksumAlgorithm
class
collectionQuery
contactOrganization
datasource
dateModified
datePublished
dateUploaded
decade
documents
eastBoundCoord
edition
endDate
family
fileID
fileName
formatId
formatType
funderIdentifier
funderName
funding
gcmdKeyword
genus
geoform
hasPart
id
investigator
isDocumentedBy
isPartOf
isPublic
isService
isSpatial
keyConcept
keywords
kingdom
label
language
logo
LTERSite
mediaType
mediaTypeProperty
namedLocation
noBoundingBox
northBoundCoord
numberReplicas
obsoletedBy
obsoletes
order
origin
originator
parameter
phylum
placeKey
preferredReplicationMN
presentationCat
project
prov_generated
prov_generatedByExecution
prov_generatedByProgram
prov_generatedByUser
prov_hasDerivations
prov_hasSources
prov_instanceOfClass
prov_used
prov_usedByExecution
prov_usedByProgram
prov_usedByUser
prov_wasDerivedFrom
prov_wasExecutedByExecution
prov_wasExecutedByUser
prov_wasGeneratedBy
prov_wasInformedBy
pubDate
purpose
readPermission
relatedOrganizations
replicaMN
replicationAllowed
replicationStatus
replicaVerifiedDate
resourceMap
rightsHolder
scientificName
sem_annotated_by
sem_annotates
sem_annotation
sem_comment
sensor
seriesId
serviceCoupling
serviceDescription
serviceEndpoint
serviceInput
serviceOutput
serviceTitle
serviceType
site
size
source
southBoundCoord
species
submitter
term
text
title
topic
westBoundCoord
writePermission

Step 2

Select a filter type

Select from up to six varieties of search filters for researchers to use on your portal

Step 3

Customize the appearance

Customize the look of your portal search fields by adding an icon, a title, and placeholder example text.

Step 4

Group related filters

Further customize the search display by grouping related filters together.
Geographic search
Search for data by location
Allow your community to search by geographic location using an interactive map. Zoom into the area where your research is focused by setting a specific center point and zoom level for the map.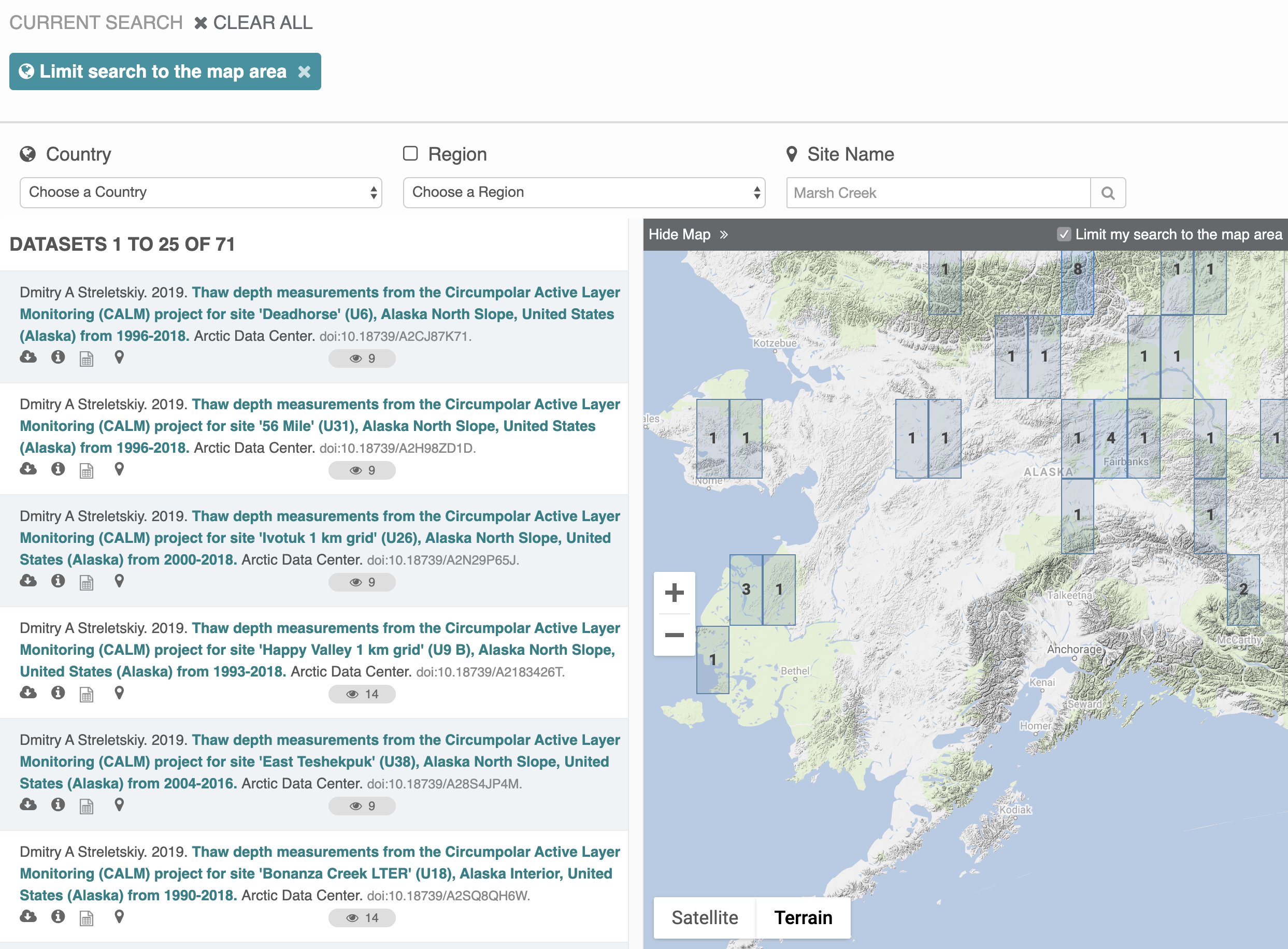 Ready to build your own custom portal?
Create a portal for free during the preview period. No credit card required.